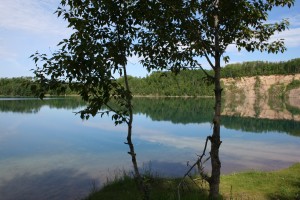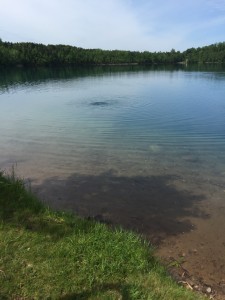 There's been some exciting new developments in the real-life Ruby Slippers investigation that my books are based on.
As you may or may not know, Judy Garland was born in Grand Rapids, MN, the town right next to where I grew up. The town is the home of the Judy Garland Museum, and a pair of movie-worn ruby slippers was stolen from the museum in 2005. There was no evidence except for a single sequin found at the scene. In the last ten years, there have been all of the usual speculation and rumors that goes along with an event of this magnitude in a small town, but never anything actionable.
Last month, during the first two days of the annual Wizard of Oz Festival (formerly known as Judy Garland Festival and Emerald City Festival) a team of divers from the Itasca County Sheriff's Department conducted a series of dives in the Tiago Mine Pit Lake.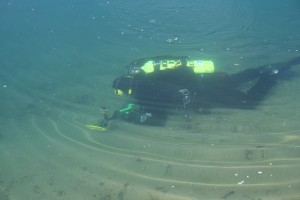 Pit lakes are created when the water backfills into areas where Iron Ore mining had been happening. During the mining, the water is diverted and actively pumped out. As soon as those pumps are shut off, it fills. (If you're not on my mailing list, check out last month's newsletter to see a video of a dive in another mine pit.) The water in these mines is crystal clear because it's ground water that is coming up through natural filters: rocks, sand, silt, etc. They are gorgeous.
Operations at Tioga ended in the 50s, and, from what I understand, the water backfilled especially quickly because of the lake's proximity (across the street) from Pokegama lake. At it's deepest point, Tioga is nearly 300 feet.
I was there for all four dives, and as far as I observed, all that was found was some garbage. However, even at the dive site, rumors abounded about what had been brought up: a sawed off shotgun, a black duffle bag and a coffee can with "ruby red coloring" inside, a plastic shoebox that would have been the right size for the shoes…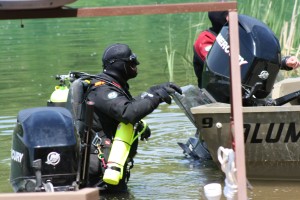 Several news crews were on hand the first day of diving, and while I was interviewed by a few different people, I only made it on to one station. That's fine, I wasn't dressed for it 🙂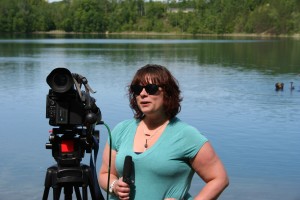 The renewed interest in the theft comes as we approach the ten-year anniversary of the crime, and because Morgan White is making a documentary film about The Ruby Slippers. I did an hour-long on-camera interview for his film, but as it's focused more on the actual shoes and the legends surrounding them, I don't know how much of it will get used. I'm looking forward to seeing the whole thing!