Book of the Week for December 28-Janaury 3
Why it's interesting:
I'll admit it, I put this book on my too read list based simply on the fact that i live in the same town as the author, not so much because I was actually intrigued by the subject manner. Schumacher is a teaching at the University of Minnesota, in the Creative Writing program, which was the first program I tried to get in to (I only applied once, and was rejected, along with more than 99% of the other applicants. And I was NOT ready the year I applied.) But anyway, her affiliation with the program also made me want to read the book.
It starts out a little slow, but the style— recommendation letters— are so short that it's easy to press through. And then all of a sudden you're hooked and want to know what's going to happen to this guy (the writer of said letters) and his students, friends, and colleagues. It was a quick and addicting read. I hope you enjoy it.
The blurb:
Jason Fitger is a beleaguered professor of creative writing and literature at Payne University, a small and not very distinguished liberal arts college in the midwest. His department is facing draconian cuts and squalid quarters, while one floor above them the Economics Department is getting lavishly remodeled offices. His once-promising writing career is in the doldrums, as is his romantic life, in part as the result of his unwise use of his private affairs for his novels. His star (he thinks) student can't catch a break with his brilliant (he thinks) work Accountant in a Bordello, based on Melville's Bartleby. In short, his life is a tale of woe, and the vehicle this droll and inventive novel uses to tell that tale is a series of hilarious letters of recommendation that Fitger is endlessly called upon by his students and colleagues to produce, each one of which is a small masterpiece of high dudgeon, low spirits, and passive-aggressive strategies. We recommend Dear Committee Members to you in the strongest possible terms.
If you like this, you might also like: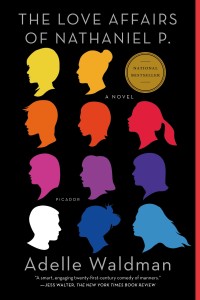 The Love Affairs of Nathaniel P.
 I had a really hard time coming up with a book to pair this with, and the Amazon recommendations didn't really help until I got to this one on the fourth page. But it does seem like a good option. I read it about the same time last year and had a lot of the same feelings about it as Dear Committee Members.