Remember when I said I was going to try Project 333? I even had my own spin on all the rules and how I was going to be even more stringent than I needed to be.
On December 29, I did it.
Here's some pictures of the process. I really wish I would have taken a picture of the inside of my dresser. Oh well.
Before: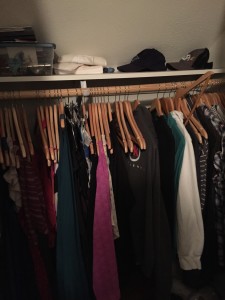 During: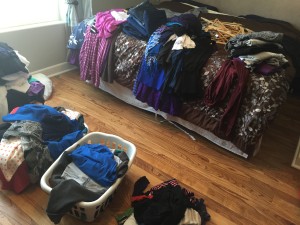 All of the my clothes, spread out on the bed and in baskets.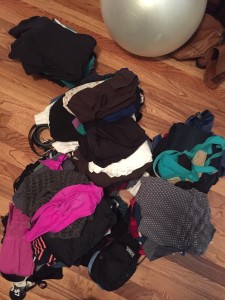 My hands-down giveaway pile (more was added later)
It was a long process. Thank you Grace Bonney, for some really awesome After the Jump episodes to keep me going. (BTW, have you heard of the Death, Sex and Money podcast? I hadn't. I just downloaded the latest episode but haven't listened yet. I heard "It's better than Serial." Which is HIGH praise. Excited to check it out.)
In the end
I kept 41 pieces of clothing and didn't count pajamas (although, as I said, I did do a massive clean out of the pj drawer.)
8 jeans
6 sweaters
4 sweatshirts
7 dresses, 2 are sweater dresses
4 shirt-cardigans
2 blouses
3 Short sleeves
7 long sleeves
Initially it was 39 and I was pretty darn proud of myself for staying within at least the 30s…but then I found more clothes in the dryer.
I didn't end up counting shoes either.
All in all, I'm super happy with the results.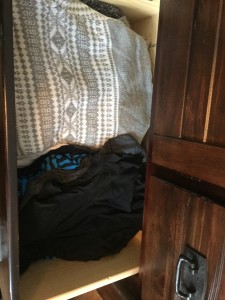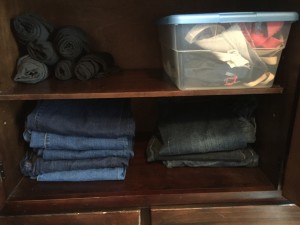 I put away one big bin of summer clothes (I don't know why I stopped putting away season clothes, it was a conscious decision a few years ago and it's crazy!) I got rid of about three times the amount of stuff I kept, going from using 1 1/8 dressers (mine, plus two drawers of Chris's) and about 5/6 of the one closet in our room) to using only 7/8 of my dresser and about ¼ of the closet. Getting dressed is easier. I LIKE everything I kept. I'm one of those people that would change my clothes several times each morning and then often be unhappy with what I was wearing. A week into this and I haven't done that at all. Not even once. I've been more comfortable in my clothes, and I've been complimented on how good I look several times. Another unexpected consequence: I take the ten minutes to dry my hair and put makeup on everyday too. Basically, I get dressed every day.
I highly recommend this process, even if 33 (or 41) isn't your number. Ruthlessly cutting what isn't working—whether or not you feel like you've "got your money's worth—is a great way to start the new year.